ENDOBUTTON
SIZE GUIDE CALCULATOR
ENDOBUTTON◊ CL ULTRA 10mm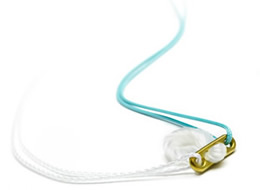 Now available with a 10 mm continuous loop of suture to accommodate the shorter femoral tunnels used in anatomic ACL reconstruction techniques and maximize the amount of graft in the tunnel.
| | |
| --- | --- |
| | The ENDOBUTTON◊ CL ULTRA device is supported by over 10 years of clinical experience and more than 20 peer-reviewed journals. |
| | "Flipping" technique provides tactile feedback, ensuring proper seating |
| | Titanium button is preloaded with ULTRABRAID◊ #5 lead suture (white)and DURABRAID #5 flipping suture (green) for added procedure efficiency. |
Tips and Pearls
1. How to measure socket: Total tunnel lengths - 10 mm (CL size) + 6 mm (flipping distance) = socket depth
Example: 30 mm total tunnel length - 10 mm + 6 mm = 26 mm socket.
Note: in most cases, socket = tunnel length - 4 mm
2. To ensure easy flipping of the ENDOBUTTON device, orient the button so that your lead suture exits the tunnel posteriorly, as shown in the diagram. This will allow the button to flip more easily on the shorter anterior aspect of the tunnel.
3. The maximum recommended graft diameter for use with the ENDOBUTTON CL ULTRA 10 mm Fixation Device is 9 mm.
The Calculator is a free application made available to the healthcare professional for assistance in determining sizes associated with a ligament reconstruction procedure. In the final analysis, the preferred sizes are those which address the needs of the specific patient. As such, the responsibility of calculating the correct sizes for each procedure lies solely with the healthcare professional. Smith & Nephew makes no warranties, express or implied, regarding the fitness of the Calculator or its software for any particular purpose. Smith & Nephew claims no liability for any problems caused directly or indirectly by the Calculator or its software. The healthcare professional is assuming the entire risk as to the quality and accuracy of the Calculator and its software.